New Hobnail White Milk Glass Table Lamps. 2 Lamps(set) No Flutes Included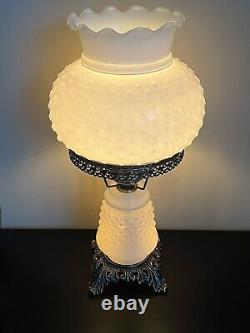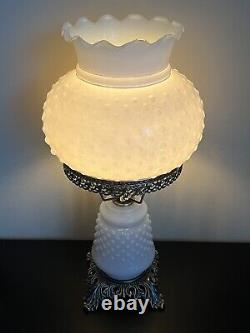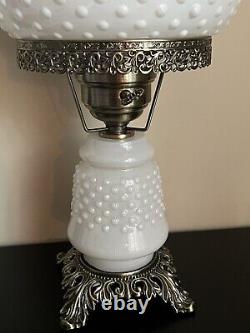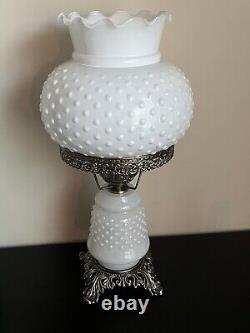 Description per'Touch of Class. SIGNATURE EXCLUSIVE - Designed with you in mind, we bring to you an offering that is utterly unique, found nowhere else in the world. Without a doubt in our heart, we believe you are worthy of lighting decor as wonderful, elegant and beautiful as you. SPLENDOROUS EXPERIENCE - Imagine for a moment, relaxing bedside, lounging on your chair, reading novels in the office or refining your room aesthetic. Nighttime now rolls around, illuminating the need for light where you are.
In these moments, what is an otherwise normal activity of life could become an extraordinary sight, each and every day. Guests will comment enthusiastically, most importantly, you will be inspired.
For a long time to come. SOPHISTICATED CRAFTSMANSHIP - Created and curated exclusively for you, parlor style lamp is handcrafted and handblown from glass, providing a truly authentic touch to its aesthetic. With a old fashioned hobnail pattern, lampshade forms the shape of a globe, scalloped at the top, 10 inches of glass chimney reaching upwards. Metal accents on the font.
Base, and shade have an antique brass finish. SENSATIONAL GIFT CHOICE - Whether it is your significant other or close friend dear to the heart, something special like this is sure to provide their life warm delight. Watch them receive warmly, thankful for.
Someone as thoughtful as you. SPECIFICATIONS & CARE - Measures 9 inches diameter by 20.5 inches high.
Key switch on socket operates three-way lighting on the top, bottom, or both. Bulb (not included) and one 7W nightlight bulb (included). For the best possible experience, dust with a soft, dry cloth. Do not use chemicals, polishes, or abrasives.